Achieve the healthy, beautiful smile you've always wanted!
At Strempek Dental Arts we provide personalized care using the latest technology in a soothing, spa-like setting. We strive to provide our patients the best dental experience possible.
Our Team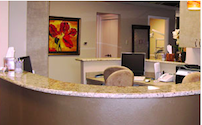 The entire team at Strempek Dental Arts is available to ease your mind about any specific needs you may have.
Our Office
Our office combines natural light, earth tones and a calming water fountain to create a tranquil environment.

Advanced Power light-activated, in-office whitening
Feel better and look great with brighter, whiter teeth in less than an hour. Teeth are often darkened by years of smoking or drinking coffee, tea, or red wine. Zoom! Advanced Power is a safe and effective bleaching process… Read More